The National Day of the People's Republic of China is a public holiday in the People's Republic of China to celebrate the national day and is celebrated annually on October 1.
The PRC was founded on September 21, 1949, with a ceremony celebrating the forming of the Central People's Government taking place in Tiananmen Square on October 1 that year. The Central People's Government passed the Resolution on the National Day of the People's Republic of China on December 2, 1949, and declared that October 1 is the National Day,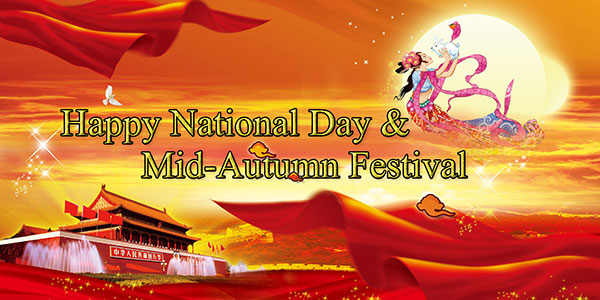 This year, October 4th is Mid-Autumn Festival, also in the National day week. Also known as the Mid-Autumn Festival or the Mooncake Festival, the Chinese Moon Festival is a favorite holiday for ethnic Chinese around the world. This day originated in a legend. Legend has it that Chang's levitated all the way to the moon when she overdosed on an elixir of life, intended originally for her husband who shot nine extra suns out of the sky with arrows. Her only companions on the lunar surface include a rabbit and a man condemned to Sisyphean tree-cutting.
In this day, Some people prefer to stay at home to celebrate the festival, while others would like to go outside to have a closer contact with the bright full moon. Over time, some outdoor places become more popular, including ancient man-made sites, natural scenic areas, countryside, and skyscrapers, etc.
By the way, we will take holiday on October 1st to 6th. Officially working on October 7th. If you have the emergency, you can send message here.